For 20 years Pantone's colour of the year has influenced what we wear and how we furnish our homes, this year's colour is Living Coral.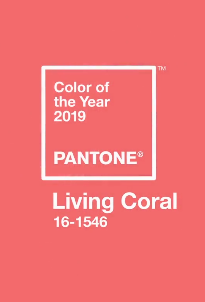 Don't panic, challenging yourself to inject Coral into your interior is not necessarily what its all about.
The colour of the year signifies a change in direction, this year we will see a move towards feminine hues, natural fibers, and organic textures as we strive create spaces of comfort and wellness.
So how do you add this years trend to your home….
Start by saying farewell to those shades of Grey (yeah!) as Cool Whites will morph into Warm Whites and Neutrals.
Leading fabric houses are showing  soft chalky shades of vanilla, rose and pistachio. Large scale floral blooms are replacing the tropical vibe and will feature in fabrics, wall panel murals and rugs.
Curtain fabrics are sheer loose weave natural fibers that drape softly.
100% Wool carpet is back, adding an important layer of texture and helping to make a warm healthy home.
Kitchen bench tops are thin, combined with timber veneers and metal accents.
Bring it on!