As we gallop towards  the festive season time spent dreaming of the perfect kitchen seems to increase, all the little niggles that you've had over the year seem to amplify, the drawer runners are sticker, the cupboards don't cope with the mountain of food you brought back from the supermarket and the rubbish seems to multiply as soon as you turn your back!
So while you dice, season and stir hold those thoughts and make a list of all the things that don't function in your kitchen then make a wish list, start a scrap-book of styles you like, remember the new kitchen needs to sit well within the architecture of your home, when its finished it should look like it belongs.
How the kitchen looks is important but beyond that  is how  functions, it must be a practical space with careful planning storage can be optimised even within the smallest of spaces.  The clever folk at Blum have a fantastic range of  products that do just that, hardware that transforms the space under your sink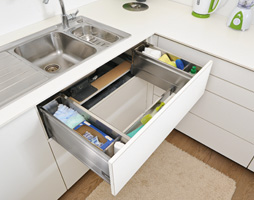 SPACE TOWER larder units, customised to any width and configuration make easy access pantry storage.  ORGA-LINE  cutlery and utensil divisions provide a place for everything.  Soft-close BLUMOTION allows drawers and doors to close softly and effortlessly.

Blum have two inspiring showrooms,  locations here, that are well worth a visit. It's a opportunity for a try before you buy experience of their practical DYNAMIC SPACE systems. Believe me there is no going back once you have seen whats on offer.