Ohhh  this is way to good not to share and well I did warn you that I would have to feature more work by the AMAZING Minosa Design Studio, so here it is……….
Admiring these images it's hard to believe the background story, incredibly this 1920's Heritage Listed home in Sydney's Crows Nest stood abandoned for 10 years, unfortunately more than enough time to be virtually destroyed by squatters still the clients managed to see past the wreckage and believe they had found their forever home.
Client brief for the kitchen was for  'something different – not run of the mill,  must include a 4 meter Island bench and access to the Laundry. Function was paramount but with an uncompromising sleek aesthetic.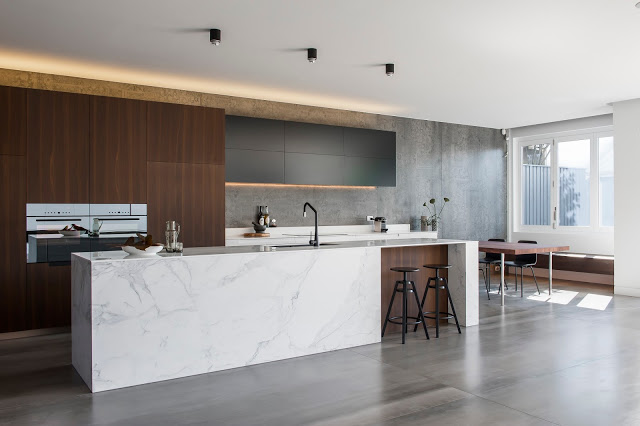 There are sooo many things that get me excited here – ah I just love to see good design! OK first up the super fine bench top profile that simply folds into the waterfall ends of the Island, combination of White, Charcoal and Grey beautifully softened by the Walnut veneer. Integrated handles, ambient lighting………….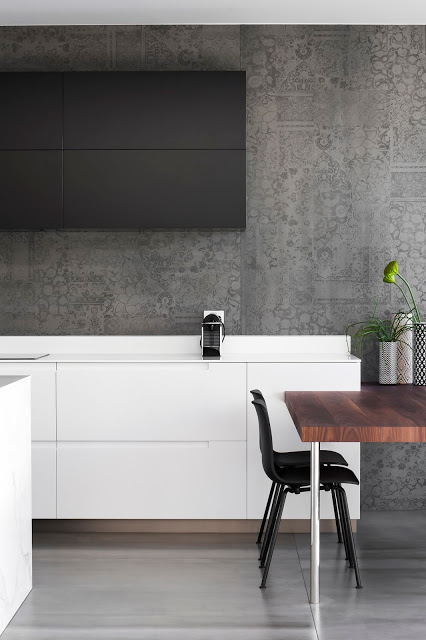 Love, love, love the simplistic method of incorporating the dining table and the adjacent window seat area – a very clever use of space keeping family and guests out from under the chefs feet but still part of the action.   The walls are clad in giant 3 meter x 1 meter tile adding a soft patina to the room.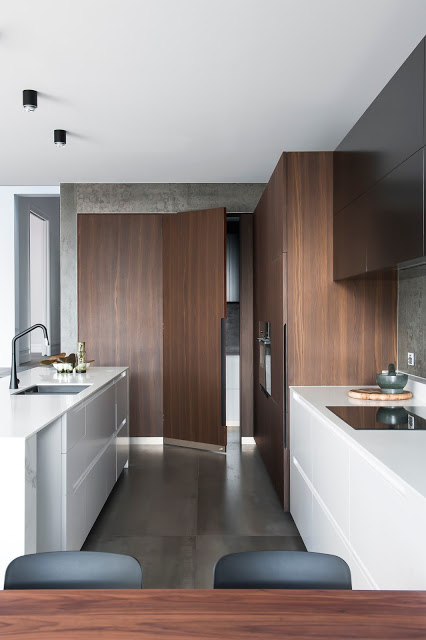 As requested access to the Laundry has been included, the entrance is cleverly concealed with Walnut veneer cabinetry, the Walnut is extend to incorporate the fridge, pantry and wall ovens – the depth and glow the Walnut exudes  is magnificent.
What's not to like?